Meet Our Staff
On your Wedding Day, our can do attitude is everything!
BCP Weddings is a full-time disc jockey entertainment company whose main goal is to make your wedding dreams come true. BCP tries to go beyond the idea that a DJ is there to spin music and keep people dancing. Each wedding reception is different, and our staff does everything possible to make your wedding reception memorable and special.
Brides often ask the logical question "Why hire you … what is so special about your company?"  There are many ways to answer this question. One can say that BCP Resident DJs are consummate professionals and love what they do. They are truly gifted at creating a magical wedding experience … the kind of magic everyone remembers and talks about for years to come.
All that is true!  It can be said that no one has our people; and they make BCP exceptional. I believe that to be true. We go beyond the simple idea that DJs are there to spin music and keep people dancing. Beyond the keeping the party percolating, we do everything possible to make your wedding reception unforgettable.
What I said makes us so special?  Everything we do is about YOU.  Think about it for just a moment. Money can't buy this type of attitude. People either have it or they don't. The staff at BCP Weddings wants to provide the spark for your celebration. We want every single moment of your reception to happen, just as you envision it.  There are companies who charge more than BCP.  You can find many who charge less. But, no company is more committed to YOU than BCP wedding.
Jake Feldman — President
---

Ryan Burger
Title: Founder, Senior Resident DJ
Age: 43
From: Cincinnati, OH
Resides: Grimes, IA
Years DJing: 30
Joined BCP Team: 1986
Favorite Quote: "Husband, Father, Publisher, DJ, Wrestling Promoter"
Ryan co-founded BCP Weddings (then known as BC Productions)s in high school with friend Dave Curtis (B=Burger, C=Curtis) and has been the driving force behind the company's growth and direction since that time. After performing literally thousands of weddings, school dances, corporate events, and other life celebrations, Ryan imparts his firsthand knowledge of entertainment into every event he performs. And, after over a quarter-century performing, Ryan's passion for the business has only increased with time!
Fun Fact: Ryan owns the nation's leading trade magazine for Mobile Djs, MOBILE BEAT, and also hosts thousands of Djs annually at the magazine's Las Vegas DJ Conventions and national DJ Tours.
---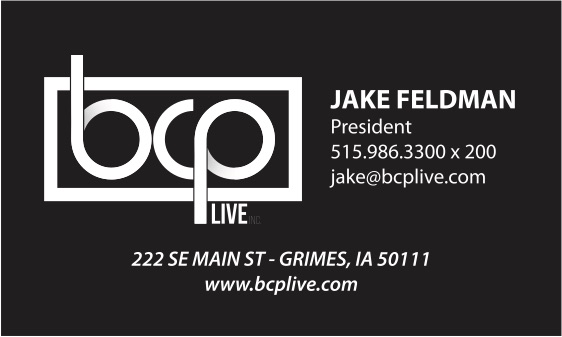 Jake Feldman
Title: President
Age: 30
From: Terril, IA
Resides: West Des Moines, IA
Years DJing: 15
Joined BCP Team: 2002
Favorite Quote: "Nothing is impossible"
DJing Style: Consummately Professional
Jake joined the BCP Team while still in high school and working in local radio. Through the years, Jake has entertained
thousands and is one of most well-known DJs in Iowa. From schools to corporate events to wedding receptions, Jake oversees every event that BCP performs at or provides services for.
As President of BCP, Jake oversees the day-to-day operations of the business—from the smallest details to the largest.
---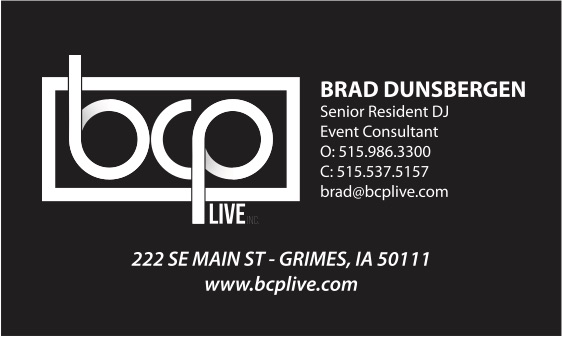 Brad Dunsbergen
Title: Senior Resident DJ
Age: 36
From: Colfax, IA
Resides: Colfax, IA
Years DJing: 26
Joined BCP Team: 2005
Favorite Quote: "There's fun to be had!"
Djing Style: Fun Cross-Mixed with Energy!
Brad is one of the longest tenured DJs in company history. His years of experience (he started Djing in High School) combined with his genuine love of entertaining people have allowed Brad to be a highly valued member of the BCP Team.
Along with performing weddings and schools, Brad also is a valuable asset to the company with his years of performance knowledge and technical DJ abilities.
---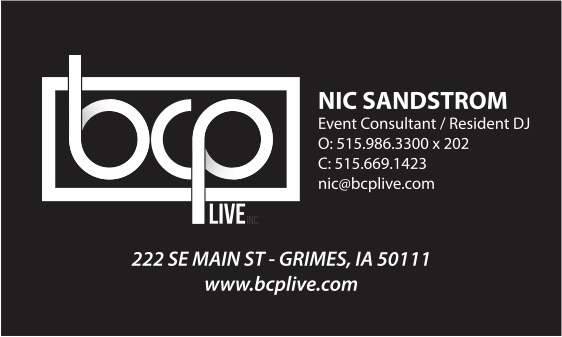 Nic Sandstrom
Title: Event Consultant/Resident DJ
Age: 27
From: Des Moines, IA
Resides: Grimes, IA
Years DJing: 3
Joined BCPs Team: 2014
Djing Style: Personalized and Fun!
Nic brings multiple years of customer service experience and audio video experience to the BCP team, providing the personalized service to each and every event. Nic will work hard to bring you the best entertainment possible to make your event unique from any other! Nic also is one of BCP's wedding event consultants, working with our clients from the scheduling process till after the event!
---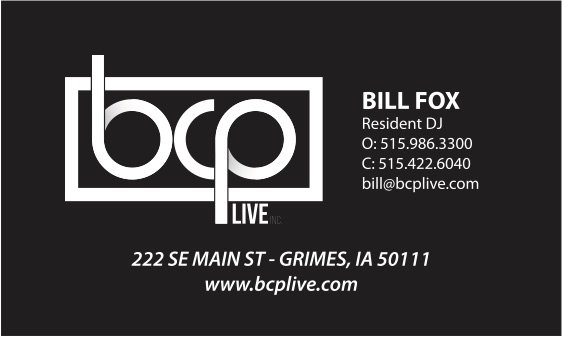 Bill Fox
Title: Resident DJ
Age: 55
From: Des Moines, IA
Resides: Des Moines, IA
Years DJing: 26
Joined BCPs Team: 2015
Djing Style: Experienced and Personable!
Bill came to the BCP team after many years of working for another local company. While Bill enjoys all events, wedding truly are his specialty,as he enjoys planning each event while working with couples and families to ensure they have the greatest experience ever!
---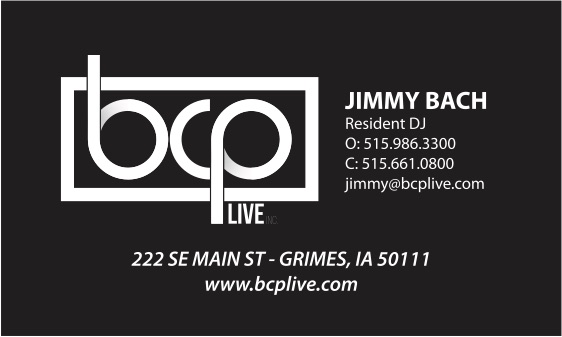 Jimmy Bach
Title: Resident DJ
Age: 36
From: Ida Grove, IA
Resides: Des Moines, IA
Years DJing: 3
Joined BCPs Team: 2013
Djing Style: Just Plain Fun!
Jimmy possesses a personality that is well-suited for our clients. He's personable and ever-willing to work with you to plan and execute your event vision to a "T". In a former life, Jimmy was an Executive Chef at well-known restaurants in the Des Moines area. Using that experience at "putting smiles on faces," Jimmy now entertains at dozens of events per year with BCP.
---
 
Ryan Williamson
Title: Resident DJ
Age: 36
From: Des Moines, IA
Resides: Grimes, IA
Years DJing: 2
Years Fronting a Party Band: 20
Joined BCPs Team: 2015
Djing Style: Energy and Style!
Ryan comes to BCP from the world of Party Bands, having been a member of the popular event band "Faculty Lounge" for many years. This experience has allowed Ryan to utilize his musical talent to become excellent at beat-mixing and reading a crowd. Ryan is fun, outgoing, and ready to work with you!
---